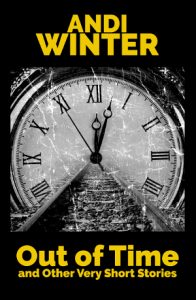 Oh, this has been sooooo long in the making, and I'm so excited! "Out of Time and Other Very Short Stories" is now available.
This is a collection of very short stories (500-1000 words each) that range from talking dogs and zombies, to stranded time travelers and surfers—all coming from some part of my personal experience.* I like to think of this as a Smorgasbord of Tales**, a wide-ranging sampler of stories to try.
Speaking of stories to try, I posted two stories from the collection. Take a look!
Links for the ebook:
Amazon (print available too!) | Barnes & Noble | Kobo | iBooks/Apple and more
And now, back to our regularly scheduled writing . . .
###
*Well maybe not the zombies.
**Perhaps "Sushi Bar of Stories"? There is definitely a much higher Japanese content than Scandinavian in the book.
***Fun, and maddening and joyful. It's hard to describe, but let's leave it at "fun".