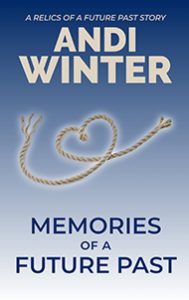 Finally, finally, finally! Memories of a Future Past, the first story in my "Relics of a Future Past" series is out NOW.
I am so excited about this story, for a number of reasons:
It's my first published story for 2019.
It's the first story in my first series.
It's a really cool story that I <3. Seriously.
What do I love about it? There is time travel, romance, dogs, sailboats, coffee, and a ton of Indiana Jones references. It's sweet and twisted and heartful (that's a word, right?).
It's available in all the usual places (Amazon, Barnes & Noble, Kobo, Apple, etc.).
You can get a taste of the "Relics of a Future Past" series with a free short story when you sign up for the newsletter (over there on the right side). I'm just finishing up the story (WWII, time travel, romance, and tacos!), so it shouldn't be long now…