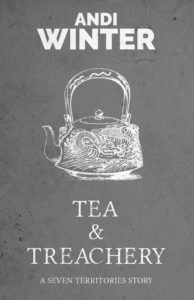 Out now for your digital consumption: "Tea and Treachery," the first story in the Seven Territories series. The stories all take place in a post-American Civil War world, where magic, demons, and zombies exist (and may have been behind the War Between the States). Think "Old West" with wizards, Chinese mysticism, and some actual facts mixed in (it is "alternate history" after all).
"Tea and Treachery" is about a woman mage at the end of her proverbial rope: her fiancé is dead, her magic was stolen, and her future is now hopeless. So what's an ambitious mage to do? Get her magic back at any cost. But is the cost too high?
The story is available in digital form at the usual suspects (Amazon and the other guys). The print version will be available in early 2020 in a collection of the forthcoming Seven Territories stories.
Get ready for a wild Weird West ride!