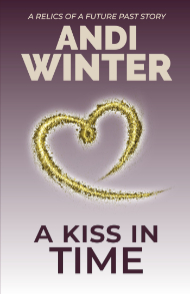 It's a little late in the news department, but better late than never. Right?
Out now is A Kiss in Time, the latest story in my "Relics of a Future Past" series. It's a story about a guy* who has been in love with his best friend since middle school, but he has never told her because he was afraid to upset their relationship.
However, when she gets her dream gig that will send her on a 5-year mission to Mars**, he struggles with wanting to confess his love to her (this might be his last chance!) and wanting to support her as a friend. So he does the good thing (the easy thing?) and doesn't say anything. And kicks himself for it.
Until it looks like he just might have the opportunity to share his feelings to her, but it will mean crossing into an alternate universe using untested technology. And you never know how dropping a pebble in one alternate universe pond will affect other universes…
A Kiss in Time is an adventure-love story with theoretical physics, scotch, and Godzilla.*** If you like Star Trek, but want more heart and less scenery-chewing Canadian actors, this story may be for you.
It's available in ebook and paperback in the usual places (Amazon, Barnes & Noble, Kobo, and assorted other online establishments including Apple).
Interested in a free taste of the Relics of a Future Past world? Sign up for my newsletter (over there on the right) and I'll send you Doorway to Infinity, a story only available to subscribers. It's a time travel tale with WWII, romance, and tacos.****
###
*Not a tech billionaire this time, but the opposite end of the spectrum: a struggling cartoonist.
**How cool is that?
***You probably won't find that description in many book summaries.
****And another story description you probably won't find anywhere else.