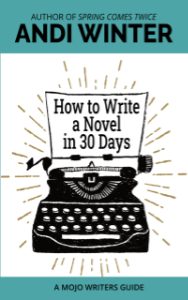 Every book and story I publish is a labor of love, but damn if this isn't the Book I Was Meant to Write. I love this book. I mean it—I wish I'd had this book when I was starting out nearly twenty years ago, and I now have a copy on my shelf that I keep rereading to remind myself of lessons I've learned the hard way (and continue to relearn over and over and over again).
"How to Write a  Novel in 30 Days" is a short, pithy guide to writing a novel, with a bonus of tips and strategies for writing that novel in a month. It covers fundamentals of mental attitude and discipline (crucial for artists of every stripe) , and then gets into the nitty gritty of novel structure. There is no preaching, no "You MUST do it this way" or any other ridiculous requirements for the writer beyond:
Do what works for you.
And an unstated follow-up:
Open your mind to trying different things and see what works for you.
In the book, I go over Plotters (writers who outline or otherwise plan their novels), Pantsers (writers who write 'by the seat of their pants'), and Hybrids (the majority of us who combine the two). Having been a Plotter AND a Pantser AND a Hybrid writer, I feel very comfortable talking about these different approaches.
Then we delve into just how the hell you can possibly complete a 50,000 word novel in a month. I share strategies that I have used, some of them legitimate means of moving a story forward and some of them a little more on the cheap tricks side (a girl's gotta hit her word count somehow).
Comments from beta readers (and from attendees of the "How to Write a Novel in 30 Days" workshops that I've held) praise the content for providing solid help with writing a novel, as well as for inspiring writers and making them feel like this is something they can do. Which they can!
If you are looking for a compact, to-the-point writing guide for your novel (whether or not you want to write it in a month), this is the book for you!
"How to Write a Novel in 30 Days" is available as an e-book and paperback at the usual online retailers.