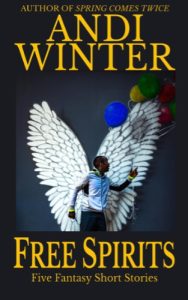 I spent most of my time the last two years writing, and realized that perhaps I should focus a little more on getting my writing out into the world.
And seeing as how I am a fan of challenges (National Novel Writing Month, a Story a Week, just to name a few), I thought that maybe what I needed was a publishing challenge.
While my initial goal was to publish a book a month in 2023, I'm running slightly behind on that. But that's okay! I figure that if I manage to publish more than four books this year, I'll be doing really well. One of those 'Shoot for the moon. Even if you miss, you'll land among the stars' ideas.
So the first book of 2023 is Free Spirits. It is a collection of five fantasy stories involving angels, demons, and ghosts, previously published separately but brought together here in one volume. The stories range from contemporary fantasy-romance to alternative Wild West, to darkly comic urban fantasy. It's kind of a smorgasbord of my fantasy writing, but with less herring and more paranormal beings.*
Free Spirits is available in e-book and paperback versions at most online retailers. Check it out for more escapist fiction with angels, demons, and ghosts (and a mad baker).
###
*That's not to imply that herring are less paranormal as a rule. That description would be better put to lutefisk. Although the more I think about that, the more I would argue that lutefisk is actually fairly demonic in nature.